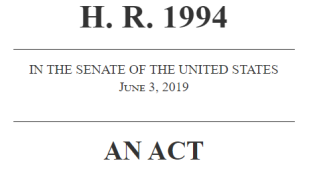 Selected Provisions of Secure Act of 2019
Selected Provisions of Secure Act of 2019
Required Minimum Distribution (RMD) to begin at 72

The age at which RMDs being has been increased from age 70 ½ to age 72.  

 

This will apply to those who will turn 70 ½ in 2020 or later.  If you are already taking RMDs you must continue to do so.

 

The act does not change the age (70 ½) at which you can make a Qualified Charitable Distribution (QCD) from your IRA directly to a charity and avoid recognition of income.

 

 "Stretch" provisions eliminated for Inherited IRA: Non-Spouses

 

Non-spousal heirs will be required to take RMDs from traditional or Roth IRAs within a ten (10) year period.   Previously heirs could 'stretch" the RMDs over their lifetimes.  This is effective for account owners dying after 12/31/2019.

 

Exceptions to the 10-year distribution include:

Heir(s) who is not more than ten (10) years younger than the decedent account owner

Heirs who are disabled or chronically ill

Certain minors up to age 18 or 21, depending up state or up to age 26 if child is in school

Governmental plans and Thrift Savings Plan (TSP) are effective 1/1/2022

Plan maintained pursuant to collective bargaining agreements are effective 1/1/2022

Annuities already irrevocably annuitized are exempt entirely

 

Contributions to traditional IRA after 70 ½ Permitted

The restriction on making contributions after age 70 ½ has been lifted; Individuals of any age will be allowed to contribute as long as you have earned income. Spousal IRA contributions remain intact.

 

"Baby Provision": IRA 10% Early penalty free distributions

"Baby Provision" allows penalty free distribution up to $5,000 for qualified birth or adoption expenses per child.  The distribution remains taxable. 

 

Retirement Plan Participation – Part time employees

Employers must allow part-time employee with at least 500 hours in at least 3 consecutive years to contribute to retirement plans.  This becomes effective in 2021.

 

529 Plan

Repayment of student loans up to $10,000 lifetime per-person limit are permitted distributions from a 529 college savings plan.

 

Can be used for apprenticeships

 

Small Business Tax Credits

Tax credits for small employer (100 or less) has been increased for those establishing a retirement plan.  Tax credit for small businesses adopting an "auto-enroll" provision.

Tax Deductions

Medical expense deduction threshold is back to 7.5% of AGI for 2019 and 2020.
above are selected provisions of Secure Act of 2019 that Congress passed at the end of 2019.